Automation:
Installation of a video system that gives diners the feeling that they are on board a yacht
The restaurant has smart audio that interacts with ambient noise, so the volume and musical selection are always ideal
The lighting is regulated automatically. The same goes for the curtains: they are programmed to open and close depending on the time of day
It has a projector and screen that hide when not in use
The restaurant's private rooms were also automated
In the 30s the first place opened in Venice, which decades later would be a well-known chain with restaurants in Dubai, Moscow. Monte Carlo and New York. It is Cipriani and Mexico City also has a branch. The intention of the place is to offer haute cuisine in an exclusive environment, so that those who visit it find sophisticated details with a Venetian floor or an imposing Murano glass chandelier.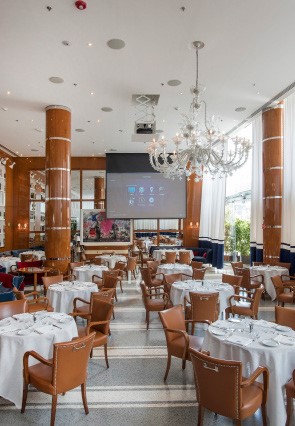 The experience is complemented by the Control 4 technology … although this is not noticed by the diners because the intention of automation is precisely that they enjoy the moment in the best environment, something that is achieved in an intelligent space.